One of Morson Group's chosen charities for 2022,

Teenage Cancer Trust

, visited our colleagues at head office in August to

give an insight into how the charity cares for and supports young people being treated for cancer, and the critical impact donations and fundraising has on making sure everyone gets the care they need

.

Throughout 2022, colleagues from across the Group have been raising money to support Teenage Cancer Trust, including sponsoring a special fundraising concert by Russell Watson in Manchester.

Funded by the Teenage Cancer Trust, Hanna Simpson is the Lead Nurse for the North West. This service looks after 220 young people each year who are diagnosed with cancer. We spoke to her about her role, what the Trust does and how donations help support it.

​

Tell us a bit about the service you provide.

Those seven young people who hear the words, 'I have cancer' every single day will potentially come through the service in the North West. That means that they may be diagnosed out in one of the designated hospitals, but then they will make their way to the principal treatment centre. Within the principal treatment centre, we have nurses and youth support workers who care for our young people. The aim of that is to support them in every aspect throughout their treatment. That's from diagnosis through to the end of their treatment and sometimes beyond.

That means looking after them, whether they're in hospital, whether they're at home, whether they're at work or at university, or college.

​

What is your typical day like?

My day usually starts about 7:00am when I will turn on my phone and I will get messages through from young people and their parents who've had worries and concerns overnight.

That means that they know that they can reach out at any time of the day or night and send a message to say, "I am worried about this and this is what I'm concerned about", knowing full well that as soon as that message is picked up, it will be answered. So that's how I start my day. I think it then inspires me for the rest of my day because I know that every young person who has needed support overnight has had that support

We then meet together as a team, and that's because as a team of youth support workers and nurses we want to care for each other. We know how hard it is looking after young people. It can be absolutely exhausting… but it's the best job in the world! So if we support each other, that means we can keep doing it every single day.

Do I have a typical day? No. Do I get in my car every single day and think, 'was that my day?' Definitely!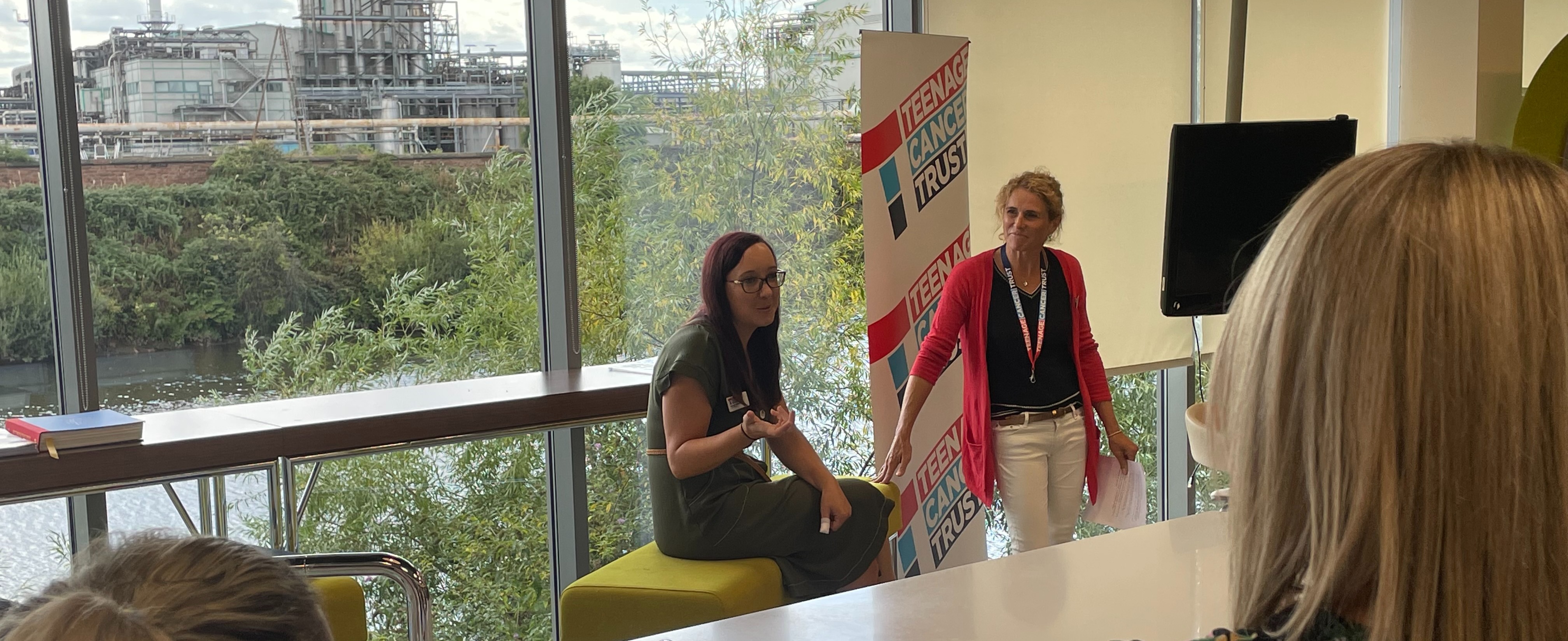 How did the Covid pandemic have an impact specifically on young people having treatment for cancer?
Nobody managed to escape the Covid era without having an impact on their daily life. For our young people, that meant that they were often diagnosed with a parent with them, but then that parent would go home. For some of our young people, that meant that they were that admitted to the ward and they spent four weeks by themselves having their chemotherapy.
And that means that we needed our nurses, our Teenage Cancer Trust nurses, and our Teenage Cancer Trust youth support workers to step in and be those people so that they could hold their hand they could be there to make sure that whenever they needed anything, they had that support.
But Covid, I think, has also inspired some of our young people. What it's done is it's made them realise how resilient they are. If you can get through cancer treatment without your parents, imagine what you're going to achieve in your life.
And, we've had the benefit of watching some of our young people really flourish as young people and build some of the most amazing relationships with the youth support team and with the nursing team.
​
What does the future look like?
What we're trying to do now is look at how we can shape our service moving on. We're looking at education and employment support because for a young person who's had three years of treatment, they've been out of education and employment. Getting back into that environment is really tough and we want to support our young people right from diagnosis and right to the end of their treatment and beyond.
Morson is proud to be supporting both Teenage Cancer Trust and
Refuge
throughout 2022. Search our latest opportunities to join the Morson family
here