As a business with over 50 years of history, developing talent is at the heart of everything Morson does.
As part of National Apprenticeship Week which celebrates and spotlights the businesses and apprentices across the country, we spoke with construction recruitment consultant, Scarlett Wilson, who recently completed her REC Level 2 in Recruitment Resourcing and is embarking on her second apprenticeship in Recruitment Practise.
​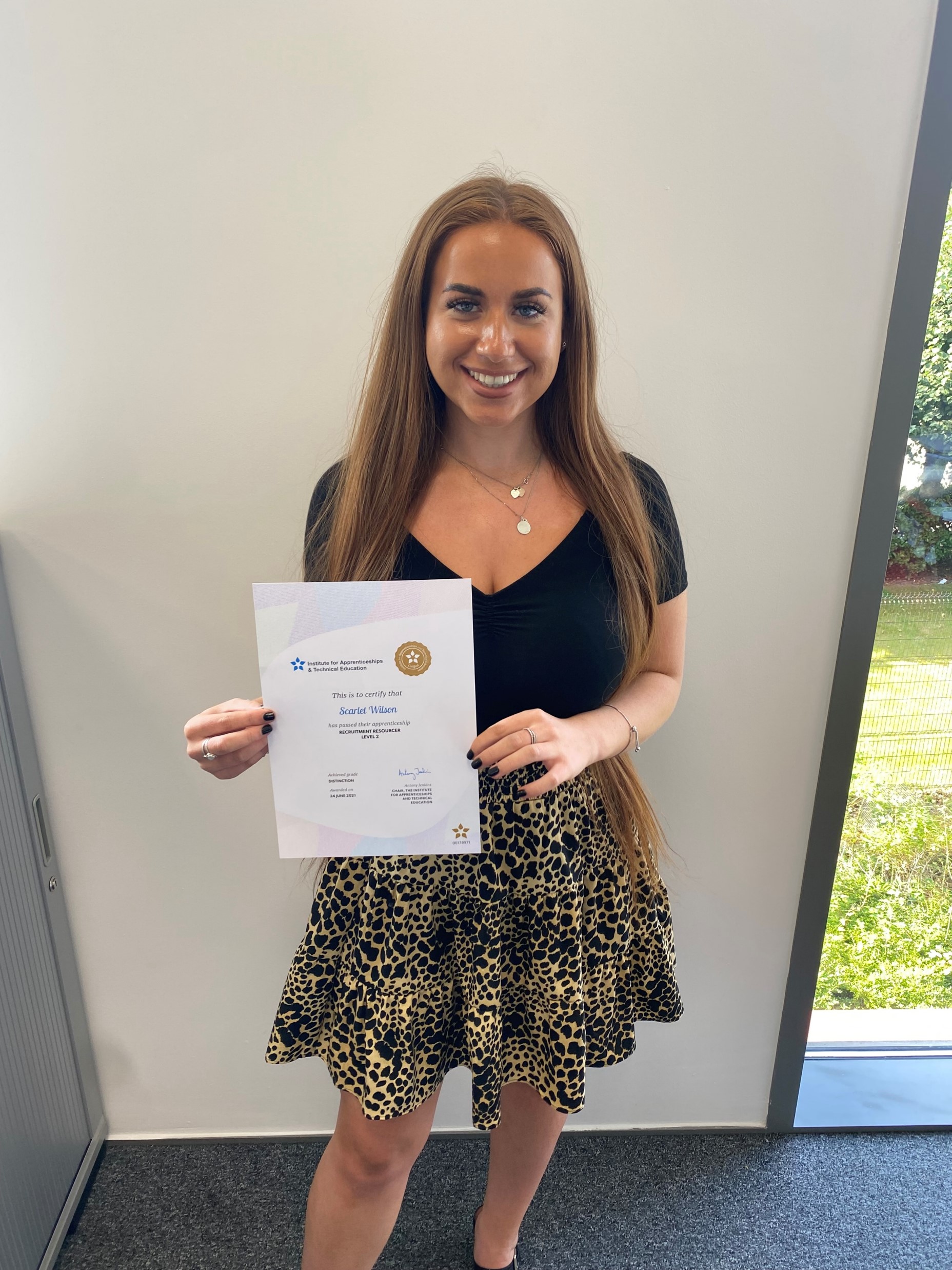 ​
Scarlet Wilson joined the business in 2019 as a trainee recruitment consultant for Morson's construction division, who work on building our future by delivering insight-driven contract and permanent talent solutions to some of the biggest construction clients in the world. With a small amount of recruitment administration experience, Scarlet undertook a resourcing apprenticeship in order to further develop her skills in recruitment. She spoke to us about her apprenticeship experience, why she joined the course, what she enjoyed and what it was like to complete the course across the backdrop of a global pandemic.


What apprenticeship did you join?
​
In 2021 I successfully completed my REC Level 2 in Recruitment Resourcing with a Distinction. Within this qualification, I studied multiplied topics relating to the recruitment industry – from candidate selection to the sales cycle. Following my achievement of Level 2, I put myself straight forward to start Level 3 in Recruitment Practice which I'm set to complete this year.

​
What made you choose an apprenticeship and how did you find out about it?
​
I was approached by our training team, within my first 6 months at Morson, with the opportunity to complete my REC Level 2. After only being in the industry for 12 months, I jumped at the chance as I knew this would enhance my recruitment knowledge and also support me in becoming a well-rounded, knowledgeable consultant.
​
What did you enjoy most from your apprenticeship?
I've thoroughly enjoyed completing the qualification as it directly relates to my current day-to-day employment and have enjoyed being able to apply everything I've learnt to my role. I feel very thankful for my team as their continued mentoring and support has been pivotal to my success throughout my studying. I also feel very privileged to work for a business that continues to invest in its employee's education and encourage them to be the best they can be!

​
What did you find the most challenging?
The biggest challenge I found was learning how to juggle my workload, whilst also supporting our key clients within a very competitive construction market.


How did doing an apprenticeship help you with your goals and current role?
Completing my REC Level 2 has enhanced my knowledge and enabled me to take on much more responsibility within my role and allowed me to provide a stronger service to our clients.


How would you summarise your experience in three words?
Challenging, rewarding and valuable.


What words of wisdom would you give to others who are debating doing an apprenticeship but are unsure?
Go for it! Hard work always pays off and you will reap the rewards of any effort you put in.

​

We believe that apprenticeships are essential to the future of talent, and key to the global economy as a whole. They provide individuals with the knowledge and skills required for a rewarding career while affording them the opportunity to gain experience working on the job. They help businesses grow, upskill their employees and develop and mould a talented workforce ready to tackle the future of change. We are passionate about promoting apprenticeships and creating routes into employment for all.

With a unique 50 year heritage of innovative recruitment, we are a diverse group with an outstanding reputation for delivering consultancy, design, technology, training and people solutions around the world.
With Morson, you can join a family that will care for your mind, body and soul. We recognise and reward achievement, and with apprenticeships at our heart, we are ambitious for you and your development.

Search the latest opportunities at Morson here.