​
​On 11th September, teams from Morson Technical Services (MTS) celebrated completing the toughest of
Walking with the Wounded
's
Cumbrian Challenge
walks.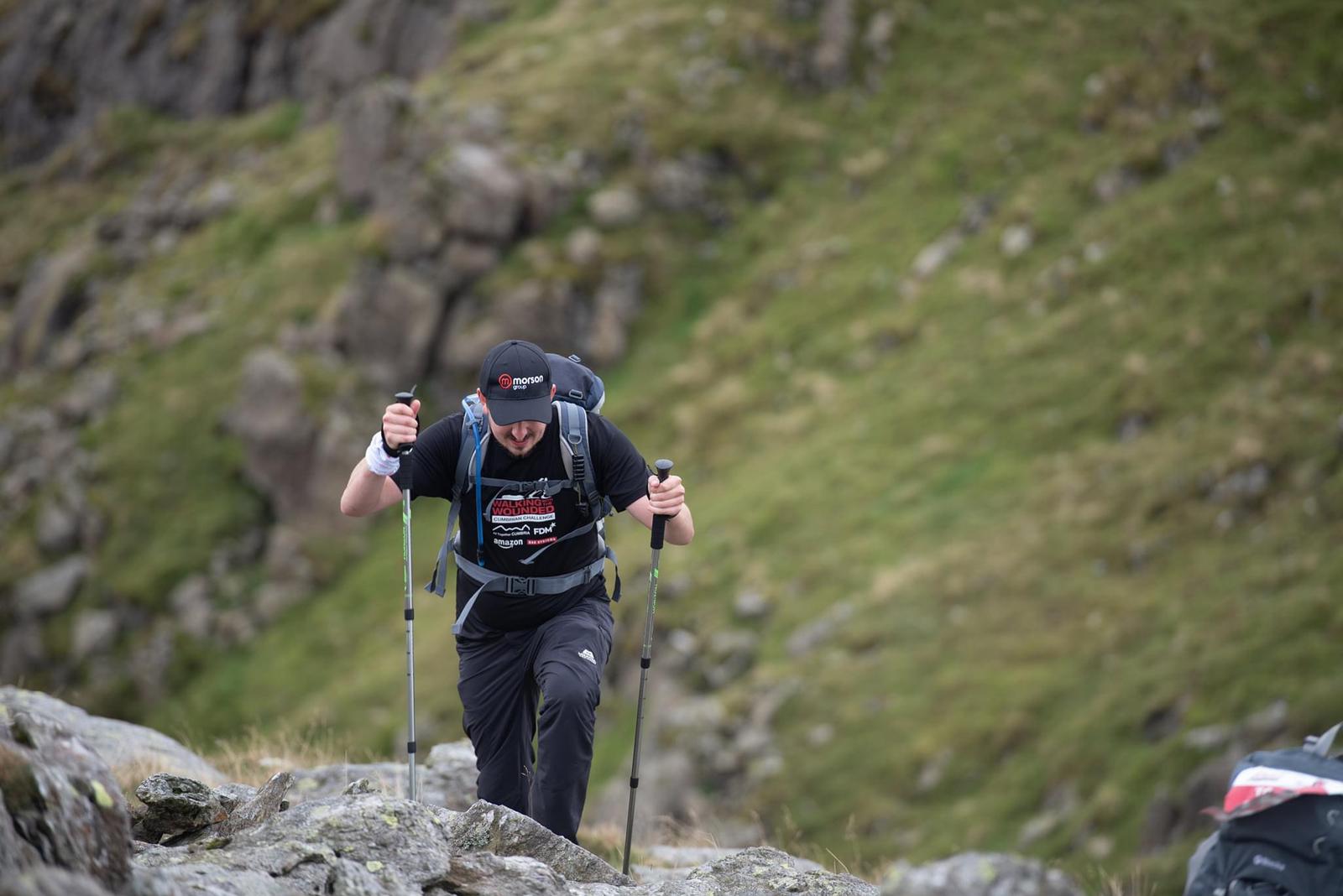 Walking with the Wounded is a charity that targets those veterans who have fallen the furthest following their servicemen and women struggling with mental health issues, unemployment, homelessness and more. By providing early intervention programmes and speeding up access to therapy, they help change the lives of veterans and their families.
The Cumbrian Challenge is the annual flagship event of the Walking with the Wounded calendar. Taking part in the Lake District, the event is a team-building challenge across the peaks with teams aiming to complete one of three challenging routes; the Peak route (10km, 900m ascent), the Tough route (22km, 1350m ascent) or the Tougher route (29km, 1900m ascent).
Over the past few years, Morson has had a presence at the Cumbrian Challenge not just as a participant but as a sponsor. With the event ticking over its tenth year, Morson Technical Services teams once again took part in the challenge to raise money and crucially offer their services to help veterans find employment.
Based at Wattisham, Dale Eades works as a Maintenance Error Management supervisor on the Apache helicopters. Since joining the Morson Technical Services team almost 5 years ago, he's been instrumental in organising their annual attendance at the Cumbrian Challenge.
Coming from an army background, Dale worked as an Avionics Technician for 5 years but then left the armed forces when a family arrived. He found his move from military life to civilian life difficult at first, not least because of leaving his brothers and sisters in arms behind with whom he'd experienced a lot, but also because the world of civilian work was proving to be a culture change he wasn't expecting. Following a spell working in the rail industry, he joined Morson Technical Services once again as an Avionics Technician to allow him to work on the Apache helicopter – bridging the gap between civilian and military career. He's since moved on to a role which has seen him side step away from tools into the world of aviation safety.
We caught up with Dale to find out his inspiration behind taking part in Walking with the Wounded, how the 2021 Challenge went, and what next year's event might look like:
"Jon Moon originally bought Walking with the Wounded to my attention. He wanted to put some teams in and asked me if I was interested in being a participant. I thought it looked awesome because it supports veterans and it was an opportunity to prove myself while being relatively new in the company, Also, being in the army I'd done all the adventure training and as the years go on you get older and a bit creakier and ask yourself can you still do this anymore? How far can you go? It's a bit unproven. I didn't know why I feel the need to just check. It feels satisfying to know that I can do 12 or 13 peaks in 12 hours or so. It feels empowering!"
Dale attracted other members to join the team and began organising the fundraising side of things. Pretty soon, Team Apache was born – and even had it's on flag. Among the team was an American representative from Boeing and a Fijian employee who worked on the Apache's in a tool-based role.
"That first year, we had the Team Apache flag, a union flag, a Fijian flag and an American flag! We were very much the flag team. But this was just the start. It highlighted how good this event was at forging relationships within the team. There were people from literally all over the world, and now I was suddenly good friends with someone from Boeing who we work quite closely with. The Team Apache umbrella now includes Leonardo management, Morson employees, Boeing employees and more. We're really working together."
After the initial success, Dale had the idea to take things a step further. To do this, he needed a little bit of help from a certain helicopter…
"The next year we had two teams and I was passionately trying to get the army involved. The event itself is relatively new (10 years old) and there weren't any military teams, so Seven Battalion joined us and I managed to persuade the powers that be that taking an Apache would be a good idea because Prince Harry was the patron and he was based at Wattisham and was an Apache pilot so there was a connection there that I wanted to use!"
The stunt was a success:
"There were so many veterans at the event who heard the engines of the Apache and they said they knew immediately what it was. The pilots that landed it were our maintenance test pilots. They weren't in Afghanistan, but there were veterans there who had served there, and they were saying that they needed to speak with the pilots to say thank you, because their lives had been saved by the Apache. They'd never had the chance to show their gratitude. You could never plan that, and it bought it home to me just what this event does."
Fast-forward to the delayed 2021 walk and Dale set about putting a team together to take on the challenge once more:
"In my team there was three of us. We had a late drop out which we filled with a soldier at the last minute because it was nice to get someone who was in uniform still serving along with us. He'd been recently in the infantry and then moved to the armoury. He raised £200-300 in a couple of days at short notice. Then on the Thursday before we were meant to go on the Friday, he was doing PT and rolled on his ankle and fractured it. He'd made such an effort to raise money which was gutting really. It was too late to get another person so we went with three."​
Dale and team set their sights on the toughest of the three walks.
"That was just because we owed it to ourselves! And we managed it, barely, but it was very challenging. We had 11 hours to complete it, but we completed it in about 12. At one point we actually got lost in cloud! The visibility was so poor, only 5 or 7 metres. We usually use map and compass but because we were in cloud someone got the GPS out... but the arrow on a GPS tracker doesn't point in the direction you should go, it points in the direction that youaregoing. The guy at the front walked in the opposite direction and that turned the arrow 180 degrees and we all thought we all needed to walk that way! So we turned around in the middle of cloud on the top of a mountain and without realising, walked along the same path we'd just walked on! That is a massive eye opener and it shows that if it was just us up there, that could have easily gotten us in some trouble. We could have got lost, but fortunately five minutes later we met another team coming in the opposite direction and figured out we were going the wrong way. I look back and thought as a veteran with all that training with map and compass, how did that happen? Lesson learned – it's the time for the old school methods when you're lost."
Despite their direction-based setback, the team soon found themselves making good progress. As part of their commitment to ensuring the safety of the participants and to act as a waypoint along the way, there is a waterpoint that the charity uses as a benchmark for who will be able to complete the challenge:
"They basically said, if you're not at that waypoint by 2pm, you're not going to make it off the mountain before dark and you wouldn't be able to finish the second half of the challenge. A lot of teams were getting stopped. We arrived there five minutes before the 2pm deadline! The guy there said that the minibus to pick up people who missed the deadline was going to be there in 15 minutes, you need to not be here in 15 minutes, so we got the message and promptly left!"
Some of the teams were de-escalated from that waterpoint onwards. They were told they would be doing the slightly easier 'tough' or 'peak' route to ensure that they finished. There were other teams who weren't going to make it who ended up on the bus and were taking back to base.
Team Apache at Wattisham alone raised over £4,500. The ultimate end goal, aside from raising money and awareness, is for Morson to act as an agency for the unemployed veterans that Walking with the Wounded aims to help:
"Next year we look to be elevating it. Morson sponsorship is all over the t-shirt so the brand is getting out and about on that event. Next year Jon wants teams from Manchester, Middle Wallop, Yeovilton, all around. There's an idea for a Morson village! WWTW's mission is to find veterans who need assistance, send them through an appropriate program to help them get back on their feet and nothing brings value to a person more than being employed and having a purpose. At the end of the charity process, they are hoping to find veterans work, so if Morson is there to help then it's beneficial to both parties."
​
Morson Technical Services deliver high-quality engineering and technical outsourced services to military and civilian maintenance and repair operations.Find out more