​​Former Coronation Street star Ryan Thomas finished his epic 10-day charity walk in style on Wednesday 19th May as he smashed his initial fundraising target, proudly wearing his Morson cap along the way!
Over the 10-day journey, which began at Buckingham Palace on 10th May and ended at Manchester Cathedral, Ryan walked the equivalent of a marathon every single day in all kinds of weather conditions with a total of nine overnight stops.
His inspiration for doing the walk, which was raising money for mental health and suicide prevention charity CALM, came after he was left devastated when a much-loved friend took his own life during lockdown.
​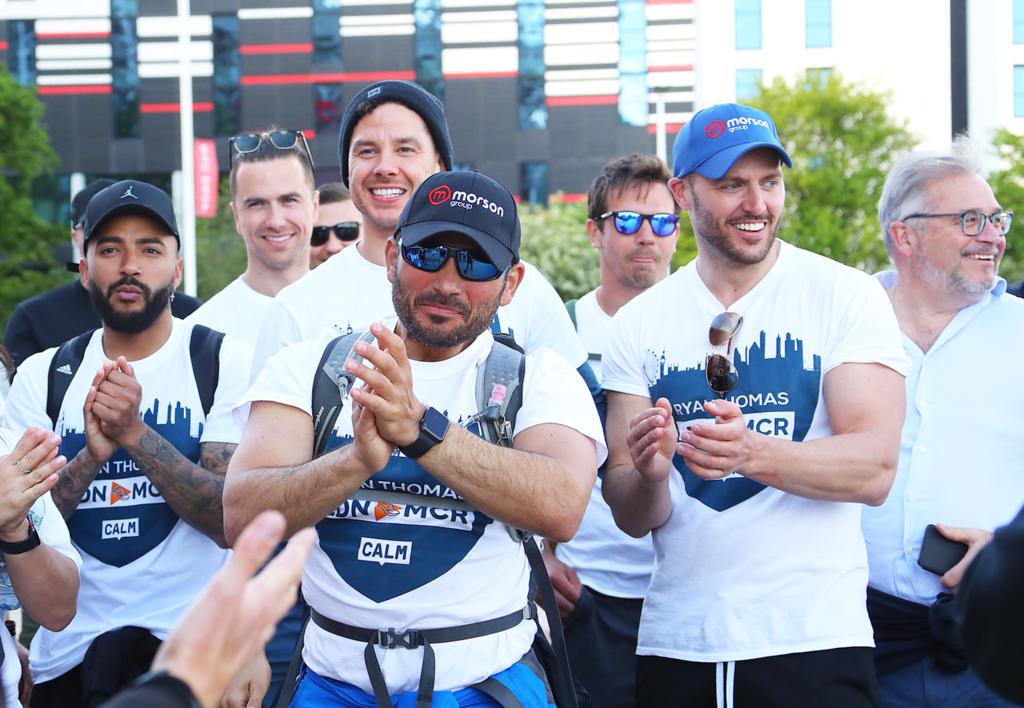 The Campaign Against Living Miserably (CALM) is leading a movement against suicide. Every week, 125 people in the UK take their own lives, with 75% of them being male. CALM exists to change this, and their helplines are open 365 days a year for people who require support or need to talk.

Ryan initially set his fundraising target at £25,000 but this was quickly surpassed and his total at the time of writing stands at almost £160,000.

The penultimate stretch of his journey took him from the Morson Group head office at Adamson House in Salford to Old Trafford, and Morson was there alongside Manchester United legends Denis Irwin and Bryan Robson to welcome him and celebrate almost reaching his end point.

"On day one I wanted to give up. Getting to the end and knowing that if you dig deep hard enough and go through the pain you can get through it – that's kind of what the mental health element is all about. It's breaking the barriers and proving that you can do it. I'm really happy that people have gone on that journey with me and that I've been inspiring people to get out of bed in the morning and make that change. I've had so much support and that's what it's all about. If one life is saved by me doing this challenge, it's been worth it."


On the approach to Old Trafford, Ryan was accompanied by Morson CEO Ged Mason, who pledged money towards the cause. Ryan wore a Morson cap throughout his walk:


"I'm so honoured that Ged and Morson have pledged their support. This is another fantastic cause that they have backed over the years, so thank you Ged and thank you to all the team at Morson."


Ryan is set to be an ambassador for CALM and continue working with them in the future.
​
​