Morson COO, ​
Adrian Adair, was put through a gruelling HIIT by The Body Coach himself, Joe Wicks. After the session Adrain chatted to Joe about healthy body, healthy mind, national hero status, his family cookbook and his ultimate guilty pleasures.
Throughout the last 18 months, Joe Wicks has been elevated to a household name. The already well-known fitness coach and TV presenter had authored a number of books and his brand 'The Body Coach' was a huge hit on social media. But it was the lockdown of 2020 that really pushed Joe to the next level. His 'P.E with Joe' series was aimed at keeping children fit throughout the pandemic in the absence of school sessions and proved to be a huge and invaluable hit. The series amassed over 100 million views and earned Joe a well-deserved MBE.
​
Definitely my favourite lunchtime workout ever! Thanks. again@thebodycoacha really good discussion on eating well, mental health and life with young children! All going towards supporting the great work @MU_Foundation does.
Adrian Adair, COO
​
After the session, Joe spoke with Adrian in an exclusive interview about his performance, his approach to mental and physical wellbeing, and the importance of sleep and diet.
"Don't focus on changing the way you look; it's about changing the way I feel"
​
Joe Wicks: Mate, you've done really well with those five exercises there!
But what we have to remember is that it's not just about the physical, it's about mental health as well. I really believe in the harder you push the better you'll feel afterwards. That's the true motivation for me. I don't really focus on changing the way I look it's about changing the way I feel. If you're in a bad mood, you do a quick 25-minute workout and come out another man.
​
Adrian: Definitely! You must have received some incredible success stories from individuals who have completed your workouts, what are some stories that have stood out most to you?
Joe: There's so many, it's my favourite part of the job reading DM's and letters, I've had a lot of children's letters and pictures sent during lockdown. To see people, go on physical journeys is great but when I dig deeper and see that people are overcoming anxiety and depression, that's the best part of my job. It really shows the power of exercising and good food and some people are a bit lost and confused of how to get going but once they start forming habits like short daily workouts and cooking food at home, they're energy, mood and productivity at work changes. It also makes you more tolerant with your kids and I love the effects it has.
​
​
Adrian: We both have kids of a similar age, was that some of the inspiration behind the family cookbook?
Joe: Yeah, I got in touch with a really great child nutritionist because I had no idea and wanted to do it right and share some good content, so I set up an Instagram account. I wanted to give everybody a chance of eating healthy food and developing good habits. When they're young and expose them to different things they will start to be more adventurous with their food. That led into my family cookbook which is called 'Joe's Family Food'. You have to get kids involved with healthy food at a young age, the sooner they start messing with their porridge and putting a bit of salt and pepper on it, they start engaging and interacting with it. The more your kids see their dad exercising and coming back with a big smile on his face, they see a really positive role model.

​
Adrian: It's great to see all your tips and tricks on Instagram because it gives those with kid's huge inspiration of what to do.
Joe: Exercising really does make you more patient around your kids, if I've exercised and my kids are having a tantrum I interact with them differently and patiently so I think it has a really positive waterfall effect on families and that's why I encourage families to do 20-25 minutes exercise a day. Even going for a walk after dinner, it just helps getting fresh air.​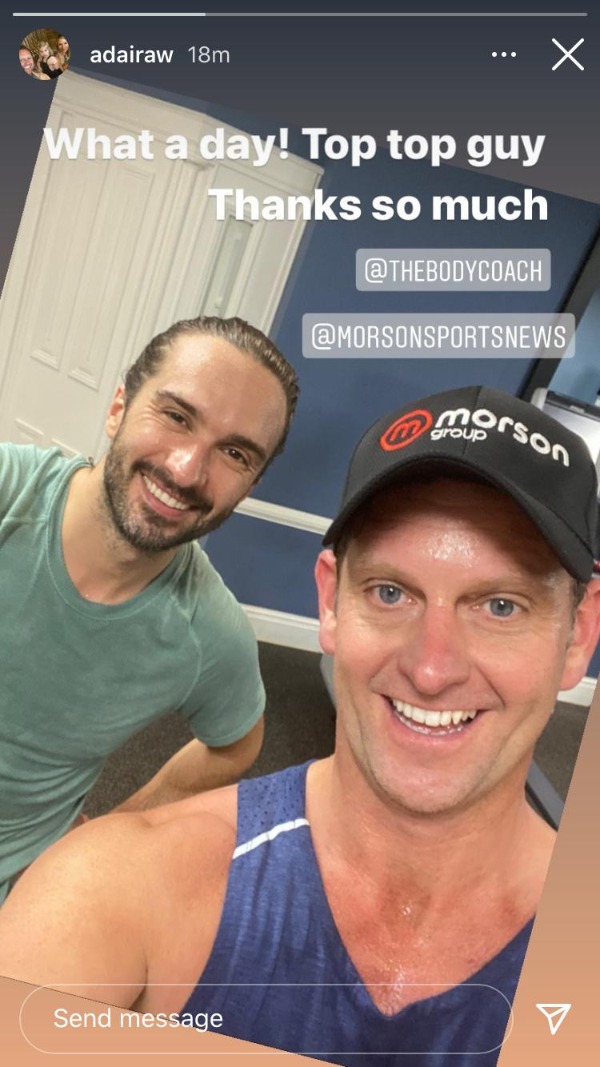 Adrian: Is that what inspired PE with Joe?
Joe: Yeah so before lockdown I had this live tour planned to go around school and help children completely funded by myself with no cameras but when the lockdown was announced I said right I'm going to do these live workouts Monday to Friday. I was really hoping that schools in the UK would put it in the newsletters and tell their kids about it and on that first day nearly a million people were doing it live and we had 118 million views globally after 18 weeks of workouts.

​
Adrian: That's amazing and you've obviously turned into a bit of a national hero, how has it changed your life?
Joe: It's weird because at the time I didn't really think it'd change my life; I have quiet life at home with my family but when I do go out, I am noticing a lot of children recognising me. I feel like it used to be adults that wanted a selfie and now it's mainly children. It's not all the time but I always make time and always have a selfie and they always say 'Thank you for getting us through lockdown' every parent and kid says that so that's how I realised how important that time was helping people.
​
​
Adrian: What was the biggest thing you learnt during lockdown?
Joe: I think realising how important social connections are for us to be happy was the most important. You can have loads of followers on Instagram, but I still felt really anxious and lost, so I think communicating to family and friends was really important. Men struggle to say how they feel when they're suffering with their mental health because there is a stigma about being embarrassed and ashamed. If you can open up and be vulnerable in front of your kids and wife then that's amazing and it really opens up the dialogue. I'm doing a documentary on parents with mental health and it goes into if the parents don't open up to their children then the children will think it's their fault so it's really important to show that side.

​
Adrian: We believe mental health awareness is so important and have set up mental health first aiders in all our offices. Just get people talking as you say is the key really and it's helped everyone communicating especially during lockdown…
Joe: Even before food, sleep is such an important part of mental health, it affects your productivity, it affects your mental health and your effort. The second thing is exercise and obviously we've just done an intense workout, but you can do low intensity stuff like going for a walk with the dog, all movement is positive. The third thing for true health and happiness is communication and to tell people how you are feeling and if you were finding lockdown and spoke about it, you'd find out you weren't on your own. It really takes the weight off your shoulders when you talk about how you feel. When you let out a cry it's amazing what it does for you, I did an Instagram live during lockdown and got a bit upset and cried and felt so much better for it. It was like letting anxiety out of my body, I think people are embarrassed to do that but I'm not.

​
Adrian: Have you got any tips for the Morson team in terms of food prep?
Joe: We live in a world where there's so many temptations with food- Uber Eats, Deliveroo and Just Eat can all be delivered to your door, so it makes it easier to be unhealthy. You've really just got to get back to basics, cooking healthy food at home, I make big Bolognese's for example and you've got lunch and then you put in the fridge and can have the rest for dinner the next day. These little things they might seem silly, but they actually make a massive difference to your body composition. Meal prep is so important and then for breakfast you can look at oats, quickly made omelettes so keep it consistent. You're not going to transform your body in two weeks but doing it all year round will help massively and my biggest advice is don't exercise to look good, exercise to feel good.

​
Adrian: What's your guilty pleasure?
Joe: Well I love a gin and tonic; I've got a gin bar at home and it's more for the flavour and the other is Ben and Jerry's Ice Cream. Anything chocolatey I can't just have a bit I have to have the whole bar. I have a good relationship with food, I don't feel guilty about it, if I'm going to have a big blow out, I train hard on that day too to balance it.